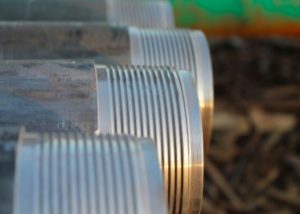 VpCI®-414 is a Cortec cleaner and degreaser that also removes temporary coatings such as Cosmoline™*, Cortec® VpCI®-368, VpCI®-388, VpCI®-389, and non-silicone-based waxes from metal and painted surfaces.
Metals Protected:
Copper

Carbon Steel

Stainless Steel

Cast Iron

Galvanized Steel

Brass (<30% Zn)
Packaging:
VpCI®-414 is available in 5 gallon (19 liter) pails, 55 gallon (208
liter) drums, liquid totes, and bulk.
Features:
Heavy-duty temporary coating remover
Good for light oils and greases
Will not affect painted surfaces
Non-flammable
Used at room temperature, thus reducing energy consumption
Viscous liquid that will cling to ceilings and vertical surfaces in a
ready-to-use formulation
Can be used effectively at low concentrations.
Provides corrosion protection after parts have been cleaned
Protects metal in solution and above the liquid line on carbon steel
Cosmoline™ is a registered trademark of Houghton International, Inc.
We offer the best prices on cleaners, degreasers and corrosion inhibitors.
Contact Us
Please tell us about your chemical or oil service needs using the form below.