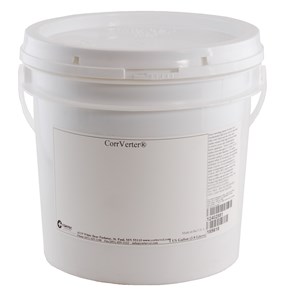 Description: CorrVerter® is a fast-drying, water-based one-coat system (primer) that converts rusted surfaces to a hydrophobic passive layer and prevents further rusting thru the unique formulation of chelating agents and PVDC resins.
The substrate should be free of loose rust, grease, oil, dirt, fingerprints, drawing compounds, rust inhibitors (except Cortec® approved), or any other surface contamination that could affect adhesion. Consult Cortec® Technical Service and/or test system adhesion prior to full-scale application. It is recommended to remove any loose rust prior to application.
Packaging:
CorrVerter® is available in 1 gallon (3.8 liter) and 5 gallon (19 liter) pails. Keep product from freezing.
We offer the best prices on rust removing primers and corrosion inhibitors. 
Contact Us
Please tell us about your chemical or oil service needs using the form below.