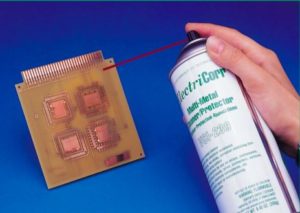 ElectriCorr® VpCI®-239 is Cortec's outdoor inhibitor of corrosion for most metals and alloys. These alloys are normally found in electrical components and electronic applications.
Increased corrosion protection at a lower cost than conventional rust preventive products.
This product was designed especially for protecting outdoor electrical connections
Fast-drying, nonstick corrosion inhibiting film sprayed from aerosol cans
Excellent outdoor protection can be applied indoors or outdoors
Instant and long-term protection from corrosion
Minimized field service
CFC and 1,1,1-Trichlorethane fre2
Vapor phase protection in vented or unvented enclosures
May be used as a cleaning agent
Moisture-displacing and penetrating film characteristics
The outdoor equivalent of VpCI®-238
Description: Outdoor version of VpCI®-238 12 oz. (340 g) cans.
Application: Integrated circuitry, bus bars, outdoor electrical connections
Protection: 50.0 ft2/can (4.65 m2/can).
Packaging:  Six 9.45 oz. cans/carton.
We offer the best prices on electronic corrosion inhibitors.
Contact Us
Please tell us about your chemical or oil service needs using the form below.